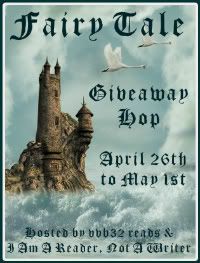 Welcome to the Fairy Tale Giveaway Hop
Featuring YA Books with a Fairy Tale Theme
It has been a while since I've particpated in one of
I Am A Reader, Not A Writer's
giveaway hops and I'm excited to be joining in the fun again! This one is hosted by
I Am A Reader, Not A Writer
, and
vvb32reads
.
For this hop, we each had an "assignment" to include our thoughts on our favorite fairy tales/characters in our giveaway post.

I have two favorite fairy tales (I'm totally breaking the rules!)
Twelve Dancing Princesses
I love this fairy tale and it's many retellings. I had two sisters growing up and no brothers so I can relate to the sisterly bonds shared by the princesses. And I have always loved dancing! (I have absolutely no dancing talent whatsoever so I live vicariously!)
The best retellings of this fairy tale are Princess of the Midnight Ball by Jessica Day George, The Night Dance by Mahlon F. Craft, and Entwined by Heather Dixon.


Who doesn't love
Beauty and the Beast
? I remember getting the Disney movie when I was like eight years old (yes, it was a VHS, I'm that old!) I watched it twice in row that very night just because I loved it so much! It is a timeless tale; when I was a kid, I liked the talking teacups, candlesticks, etc., when I was a teenager, I loved the "bad boy" attraction element, and now, I appreciate the story for its epic romance.
My favorite retellings of this fairy tale are the Disney movie (of course),
Beastly
by Alex Flinn (the book and the movie), and
Beauty
by Robin McKinley.
And speaking of Robin McKinley, my giveaway is a "gently used" (I have read it once) hard cover copy of Pegasus by Robin McKinley. Now, I don't think this book is a fairy tale retelling. However, I think Robin McKinley is so talented that she has written a brand new fairy tale! So, I decided that it would qualify for this giveaway hop (there I go, breaking the rules again! I'm a total rebel!)


Title:
Pegasus
Author:
Robin McKinley
Publisher:
Putnam Juvenile
Date Released:
November 2010
Series:
Book #1 in
Pegasus
series (there is going to be a sequel!)
Genre:
YA, Fantasy,
FAIRY TALE!
Because of a thousand-year-old alliance between humans and pegasi, Princess Sylviianel is ceremonially bound to Ebon, her own pegasus, on her twelfth birthday. The two species coexist peacefully, despite the language barriers separating them. Humans and pegasi both rely on specially trained Speaker magicians as the only means of real communication. But it's different for Sylvi and Ebon. They can understand each other. They quickly grow close-so close that their bond becomes a threat to the status quo-and possibly to the future safety of their two nations.

New York Times bestselling author Robin McKinley weaves an unforgettable tale of unbreakable friendship, mythical creatures and courtly drama destined to become a classic.
To enter the giveaway, fill out the Rafflecopter form below.
Open from April 25 to May 1.

US mailing addresses only.

You must be 13+ years of age to enter.

Earn extra entries by following The Book Bug via GFC and/or Twitter.
a Rafflecopter giveaway
And while you are here, sign up for another fun hop, the
LDS Authors Giveaway Hop
, hosted by me and
I Am A Reader, Not A Writer
.
Now keep hoppin' to find more great fairy tale retellings (and hopefully win tons of prizes!)