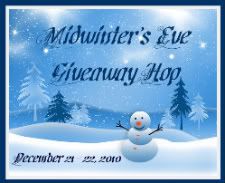 It's that time again . . . time for another book blog hop! This event is once again hosted by Inspired Kathy at
I Am A Reader, Not A Writer
. Thanks for all the fabulous blog hops, Kathy!
The Midwinter's Eve Giveaway Hop will be a quick 2 day hop. The hop will run from 12:01 AM on December 21st to 11:59 PM on December 22nd. Midwinter's Eve is the longest night of the year so why not spend it entering some great giveaways.
I will be giving away a paperback copy of
The Season
by Sarah MacLean.
Author: Sarah MacLean
Genre: Young Adult/Historical Fiction
Synopsis from Goodreads.com:
Seventeen year old Lady Alexandra is strong-willed and sharp-tongued — in a house full of older brothers and their friends, she had to learn to hold her own. Not the best makings for an aristocratic lady in Regency London. Yet her mother still dreams of marrying Alex off to someone safe, respectable, and wealthy. But between ball gown fittings, dances, and dinner parties, Alex, along with her two best friends, Ella and Vivi, manages to get herself into what may be her biggest scrape yet.
When the Earl of Blackmoor is mysteriously killed, Alex decides to help his son, the brooding and devilishly handsome Gavin, uncover the truth. But will Alex's heart be stolen in the process? In an adventure brimming with espionage, murder, and other clandestine affairs, who could possibly have time to worry about finding a husband? Romance abounds as this year's season begins!
Unfortunately, I haven't had the time to read this one yet but I would love to know the winner's thoughts on the book!

To enter, you must fill out the form below. Make sure your entry is in by 11:59 PM of December 22nd. The winner will be chosen by Random.org, hopefully by Christmas Eve. Good luck!


Now, head on over to the next stop on the Midwinter's Eve blog hop!